Sunny Days no more – Big Bird Missing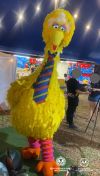 Police are investigating after a Big Bird costume was stolen from the Sesame Street Circus Spectacular at Bonython Park overnight.
Sometime between 4.30pm Sunday 18 and 9.30am Monday 19 April a large yellow 'Big Bird' costume was stolen from the Circus area. Feathers were spotted nearby on Port Road.
Anyone who has information about the theft is asked to contact Crime Stoppers on 1800 333 000 or report on line at www.crimestopperssa.com.au – you can remain anonymous.
If you know there whereabouts of the costume please call the police assistance line immediately on 131444.